Presidential Search
The WVC Board of Trustees and Dr. Harrison finished contract negotiations. The board approved his contract on Dec. 6. He is set to begin the role on Jan. 3, 2023.
On Oct. 27, Wenatchee Valley College announced four finalists in its search for the next president.
Candidates under consideration:
The four final candidates for president were selected from a group of six semifinalists that interviewed a week ago on October 20 and 21. In total, WVC received 46 applications from across the country.
Forums are open to WVC students, WVC employees and invited community stakeholders*. Participants may attend in-person or via Zoom webinar. Each candidate will begin with a 15-minute presentation on the topic of how rural colleges can support workforce and economic development, followed by a question-and-answer session. Questions will be fielded from both in-person and webinar participants.
Daily Forums Oct. 31 – Nov. 3
Monday, Oct. 31: Dr. David Johns
Tuesday, Nov. 1: Dr. Karin Hilgersom
Wednesday, Nov. 2: Dr. David Pelkey
Thursday, Nov. 3: Dr. Faimous Harrison
In-person:
10-11 a.m.: Omak campus, Hazel Allen Burnett Hall Room 409

2-3 p.m.: Wenatchee campus, Wells Hall Campus Theater
Zoom webinar:
Webinar participants may submit questions for consideration during the forums. If selected, t

he webinar moderator will read them aloud at a designated time.
*Members of the media should RSVP to Libby Siebens, executive director of community relations.
Submit Feedback
After the daily forums, please submit your feedback to PresidentialSearch@wvc.edu.

The WVC Board of Trustees will review all feedback sent to this address for the presidential finalist forums in addition to the feedback received from the spring listening sessions.
2022
January 19: At the January board meeting WVC President Dr. Jim Richardson announces plans to retire on June 30, 2022. The president releases a personal message.
February 1: The Board of Trustees holds a listening session for WVC at Omak employees.
February 2: The Board of Trustees holds a listening session for WVC Wenatchee campus employees.
February 16: At their February board meeting, the WVC Board of Trustees announces the decision to do an external search and gives approval to human resources to secure a firm.
March 16: WVC Board of Trustees extends the president's contract through the end of the year, Dec. 31, 2022.
March 16: A consulting firm, Academic Search, is selected for the presidential search process.
April 20: WVC Board of Trustees chooses the presidential search committee members.
May 13: Listening sessions are held with community members.
May 16: First meeting with the search firm and the presidential search committee.
May 26: Campus listening sessions are held.
Mid-June: Public notice of the position description and announcement released.
Sept. 28: Application closes.
Oct. 7: Presidential search committee meets to select candidates for semifinalist interviews.
Oct. 20-21: Semifinalist interviews.
Oct. 31-Nov. 3: Finalist interviews and campus visits (Wenatchee and Omak).
Nov. 7: Dr. Faimous Harrison announced as WVC's next president. Contract negotiations begin.
Dec. 6: Trustees approve Dr. Harrison's contract.
2023
Jan. 3: Start date for the new president.
Tamra Jackson, Trustee - Chair, Bridgeport
Steve Zimmerman, Trustee - Co-Chair, Wenatchee
Paula Arno Martinez, Trustee - Alternate, Wenatchee
Will Kraske, Full Time Faculty – Math, Omak
Francisco Sarmiento, Full Time Faculty - Agriculture, Wenatchee
Tony Rosales, Exempt - Assistant Director of Financial Aid, Wenatchee
Riva Morgan, Exempt - Associate Dean for Transitional Studies and Workforce Grants, Wenatchee
Jenny Ezpeleta, Classified - Biology Instructional and Class Support Tech 3, Wenatchee
Jocelyn Vincent-Ramsey, Classified - Program Coordinator, Omak
Tammy James, Colville Tribal Representative, Nespelem
Brenda Alcala, Board Member - Wenatchee Foundation, Wenatchee
Connie Toth, Part Time Faculty - Nursing, Wenatchee
Reagan Bellamy, Executive Director of Human Resources, Wenatchee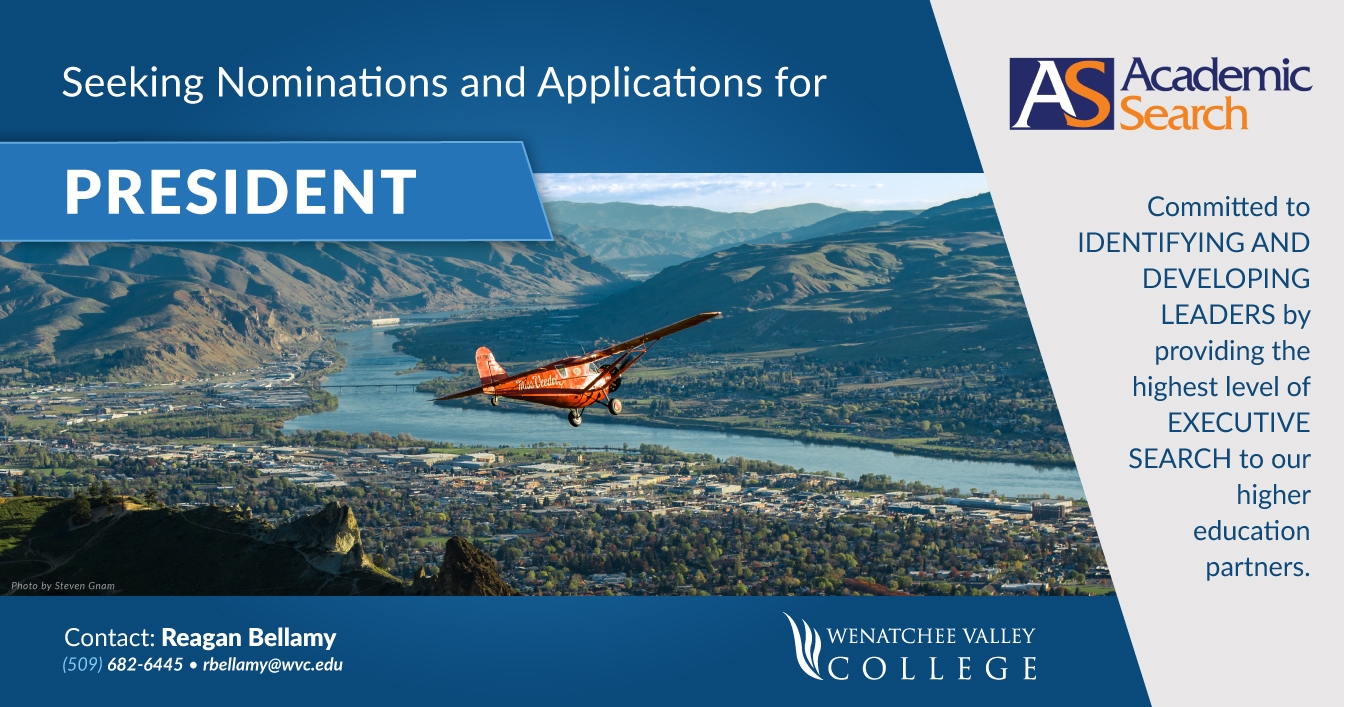 WVC contracted with Academic Search to conduct the presidential search. Academic Search is committed to identifying and developing leaders by providing the highest level of executive search to our higher education partners. Their consultants interact extensively with the search committee to assist with organizing and managing the search process, and informing the crucial decisions of the search committees and hiring authorities.